I ended 2012 poorly. It's been ages since I've updated. It seems like I've apologized about my long bouts of neglect more than actual blogging. It was my first year into it and I'm still learning. My lack of organization and time management is also a force to be reckoned with. I just want to express my enthusiasm for the new year and new beginnings!
This blog started with the purpose of chronicling my journey of making an organized (and fun!) adult home and life. I may have slacked off on the blog, but I can say that I cook way more often, developed better house chore habits, and have continued creative projects.
I decided to begin with two bread recipes. I realized I've never made any type of banana bread or "breakfast" bread variety. J came over one evening and we gobbled them up. These breads are comforting and delicious. A perfect start.
Cream Cheese Banana Bread
I followed the recipe exactly. It turned out wonderful. Mr. P decided this one was his favorite. Cream cheese is always Mr. P's favorite. My banana's were perfect for this recipe. They were dark on the outside but perfectly soft for baking. I was glad I just happened to have walnuts in the pantry!
Banana Zucchini Bread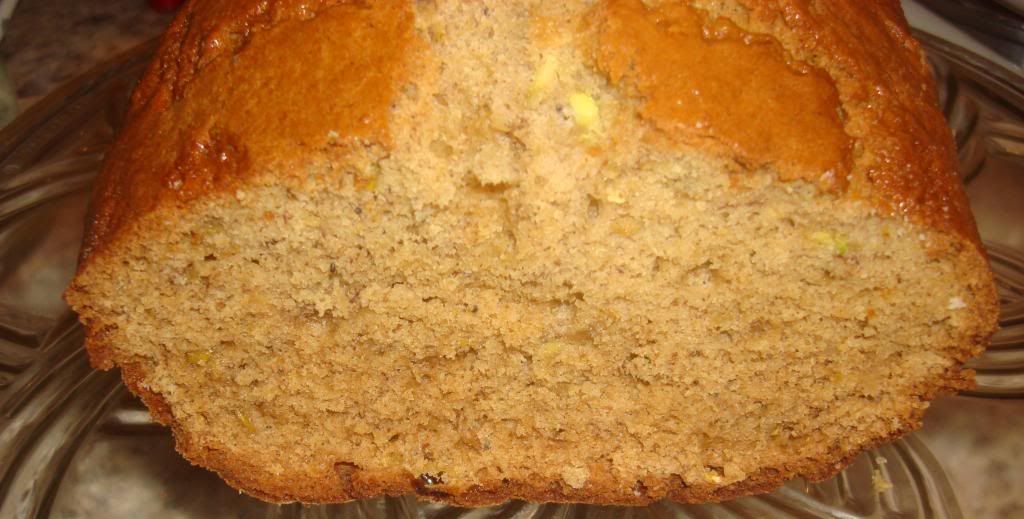 Ingredients:
1/2 C mashed ripe banana
1 C shredded zucchini
1/3 cup yogurt
5 Tbs butter, melted
2 eggs
1/2 C granulated sugar
1/2 C light brown sugar
2 C all-purpose flour
1/4 C toasted wheat germ
3/4 tsp baking soda
1/2 tsp salt
1 1/2 tsp cinnamon
1/2 tsp ginger
1 tsp vanilla extract
Directions:
1. Pre heat oven to 350F. Spray a 9 x 5 loaf pan with non stick spray.
2. In separate bowl, sift flour, wheat germ, baking soda, salt and spices together. ( I always do this while I'm preheating. Makes the whole process faster.)
3. With mixer, combine banana, zucchini, yogurt, butter, and eggs. Beat until just combined. Add sugars and blend on medium.
4. Add dry ingredients to wet. Beat until just combined.
5. Bake at 350F for an hour to 65 minutes, until toothpick inserted comes out clean. Cool in pan for 10 minutes and then remove to rack to cool completely. Enjoy!
You could add a frosting if you would like. I enjoyed mine warm and with a little butter. I got a lot of compliments from coworkers that hate zucchini and loved this bread!